ECO–FRIENDLY INITIATIVES
Home is where the heart is.
At Mitchell Gold + Bob Williams, we recognize that our home is the planet we share and we are dedicated to preserving it as a proud member of the Sustainable Furnishings Council.
Our cushions are free of fire–retardant chemicals. The back pillows on our upholstery styles are partially composed of recycled fibers that were once plastic bottles. Wrapped in 80% regenerated fibers, our ozone–friendly foam and padding are composed of up to 10% soy: an all–natural, renewable resource.
Our wood frames are sourced from local domestic suppliers compliant with US forest requirements for harvest and reforestation. They're precision–cut by computer which is best for the environment because it provides the highest yield from each tree cut.
Many components for our upholstery frames are earth–friendly, including water–based biodegradable glue with springs and mechanisms made from 65% recycled metal.
We offer eco–friendly fabrics derived from natural fibers such as cotton, linen, mohair and hemp.
We partnered with our finishing supplier to develop finishes that reduced our VOC emissions by 38.6%.
Even our packaging material is eco–friendly. To accompany our eco–friendly cartons, we updated the liner that wraps around each upholstered piece to one that is made with earth–friendly material and easily recyclable.
We integrated intelligent software in our factory that observes our energy consumption to increase our overall energy efficiency while reducing waste and expense.
We have an extensive recycling initiative for paper, plastic and aluminum materials that furthers the product life cycle while reducing our carbon footprint.
We upcycle our fabric and leather scraps by selling them to manufacturers who make them into a variety of products. By doing so, we reduce our landfill waste by 200+ tons annually.
Our factory utilizes energy–efficient lighting, all monitored for maximum efficiency with intelligent software.
We invest in innovative technology and machinery in an effort to reduce material and paper waste while increasing efficiencies throughout the manufacturing process.
We are exploring future projects such as solar energy production, which could allow us to produce 100% of our current electrical demand, and water–based finishes, which would reduce our VOC emissions by 50%.
JOIN OUR MISSION TO MAKE THE WORLD A MORE COMFORTABLE & SUSTAINABLE PLACE: FOR EVERYONE.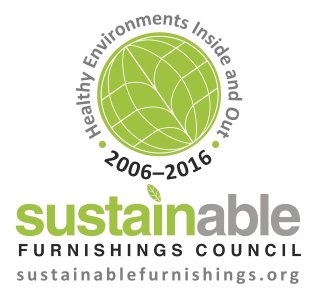 Proud Member
For more information, please contact us at eco@mgbwhome.com.